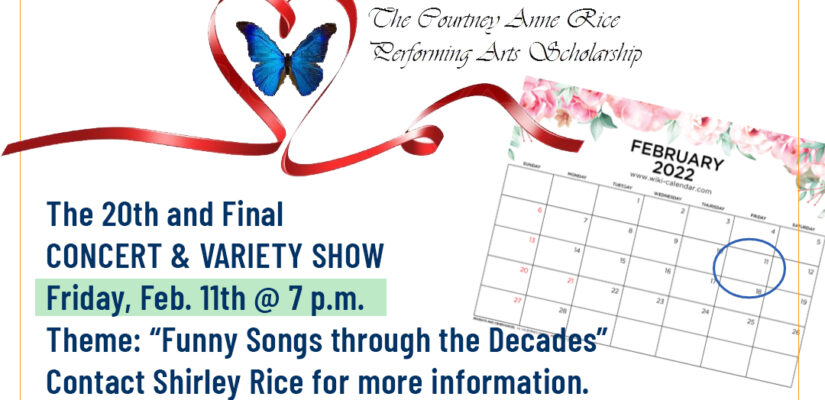 Benefit Concert and Variety Show 2022
Courtney Anne Rice Performing Arts Scholarships, Inc.– a non-profit group
presents
The Twentieth Valentine's
(There was no nineteenth because of Covid)

Benefit Concert and Variety Show 2022
"A Celebration of Music and Life"
Theme: "Funny Songs thru the Decades"
An extravaganza of talent for and from all ages: Instrumental, vocal music, dance,
magic, comedy, memories and more!
Where: Port Orange Presbyterian Church
4662 S. Clyde Morris Blvd., Port Orange 32129
When: Friday, February 11, 2022 at 7:00 PM
Please come to enjoy the music and fun!

The concert/variety show is free. Donations appreciated.
If you wish to make a donation to the scholarship fund, a free will offering will be
received. 100% of your donations go to the scholarships which are awarded to Spruce
Creek High graduating seniors who have participated in the performing arts at their
schools and are college bound. Over 300 scholarships have all ready been awarded!
For additional information please call
Port Orange Presbyterian Church 788-1111 or Shirley Rice directly.